Last Updated:

In the middle of AMD's new RX 6X50 XT launch, we find another upgrade. So we compare the RX 6750 XT vs RTX 3070. They are more entry-level choices compared to anything higher but still offer great work. Both fighting out for the best graphics card for you.
The AMD card is the newer launch with it coming out in May 2022 as part of the refresh. Whereas the 3070 was part of the original release for Nvidia's current generation. So it is the older card from October 2020. So the Radeon card comes quite late in the lifecycle with something new.
ASUS ROG Strix AMD Radeon RX 6750 XT
Pros
Excellent cooling to prolong life
Great overclocking opportunity
Biggest factory overclock
Cons
RX 6750 XT only max 9% faster than 6700 XT for 15% price hike
More expensive option from selection

ASUS ROG Strix NVIDIA GeForce RTX 3070 Gaming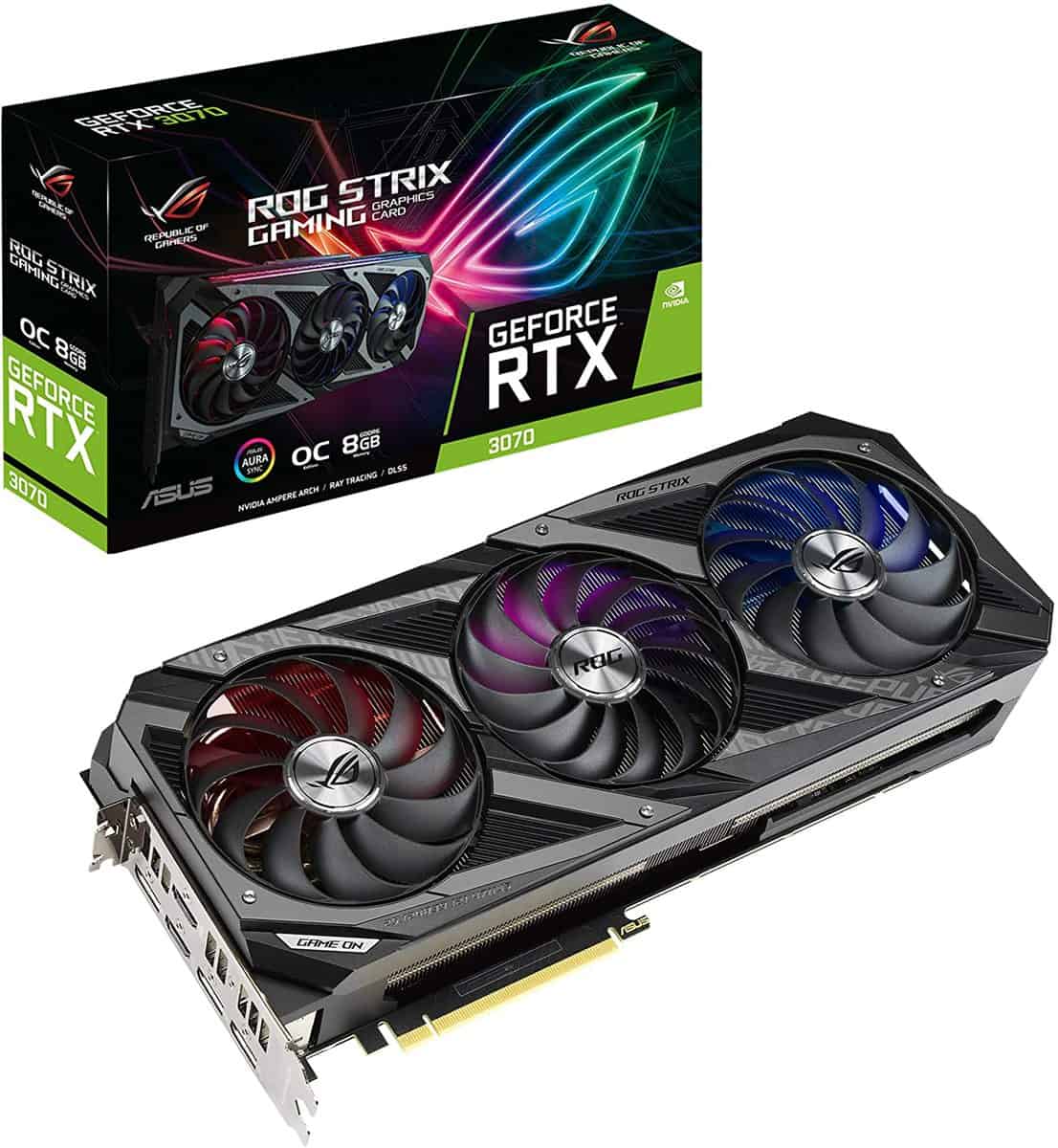 Pros
Excellent aesthetic design
Cons
On the higher end of the price spectrum
Architecture
Being from two different companies, there is no direct comparison of how the two GPUs are made. As each utilize different architectures, with Nvidia having their Ampere build whilst AMD has the RDNA architecture.
In particular, the RX 6750 XT utilizes the Navi 22 KXT variant. Made with TSMCs 7nm process, it creates a 335mm² die of 17.2 billion transistors. Whilst the RTX 3070 is based on the GA104-300 GPU variant. Which in turn is made with Samsungs 8nm process making a die 392mm² in size with 17.4 billion transistors.
Specifications
| | RX 6750 XT | RTX 3070 |
| --- | --- | --- |
| GPU | Navi 22 KXT | GA104-300 |
| Shaders | 2,560 | 5,888 |
| RT cores | 40 | 46 |
| TMUs | 160 | 184 |
| Memory | 12GB GDDR6 | 8GB GDDR6 |
| Base clock | 2,150MHz | 1,500MHz |
| Boost clock | 2,600MHz | 1,725MHz |
| Memory clock | 18 Gbps | 14 Gbps |
| Card bus | PCIe 4.0 x16 | PCIe 4.0 x16 |
| Memory bandwidth | 432.0 GB/s | 448.0 GB/s |
| TDP/TBP | 250W | 220W |
Another base comparison when looking at the RX 6750 XT vs RTX 3070 is what they're made of. Seeing what to expect from performance and usage.
GPU cores
Not a one-to-one comparison with their different architectures, cores are what make up the GPU die itself. Each of which is specialized in particular mathematical instructions. In particular, we have the shaders on shadows and lighting. RT cores focused on real-time ray tracing. And TMUs on creating 3D objects from bitmaps. All working together to create the final scene.
Comparing the two GPUs, the 3070 takes the lead in numbers. With double the shaders but only a few more in the others. However, this can be down to different architectures and how they are defined by the companies. This means they aren't going to mean anything to each other.
Video memory
Another specification is the VRAM available on the graphic cards. Varying in sizer, type, and speed. It is used as a frame buffer and pixel storage. Lowering latency between GPU and CPU, as well as allowing bigger resolutions to work more smoothly. All together give a greater experience.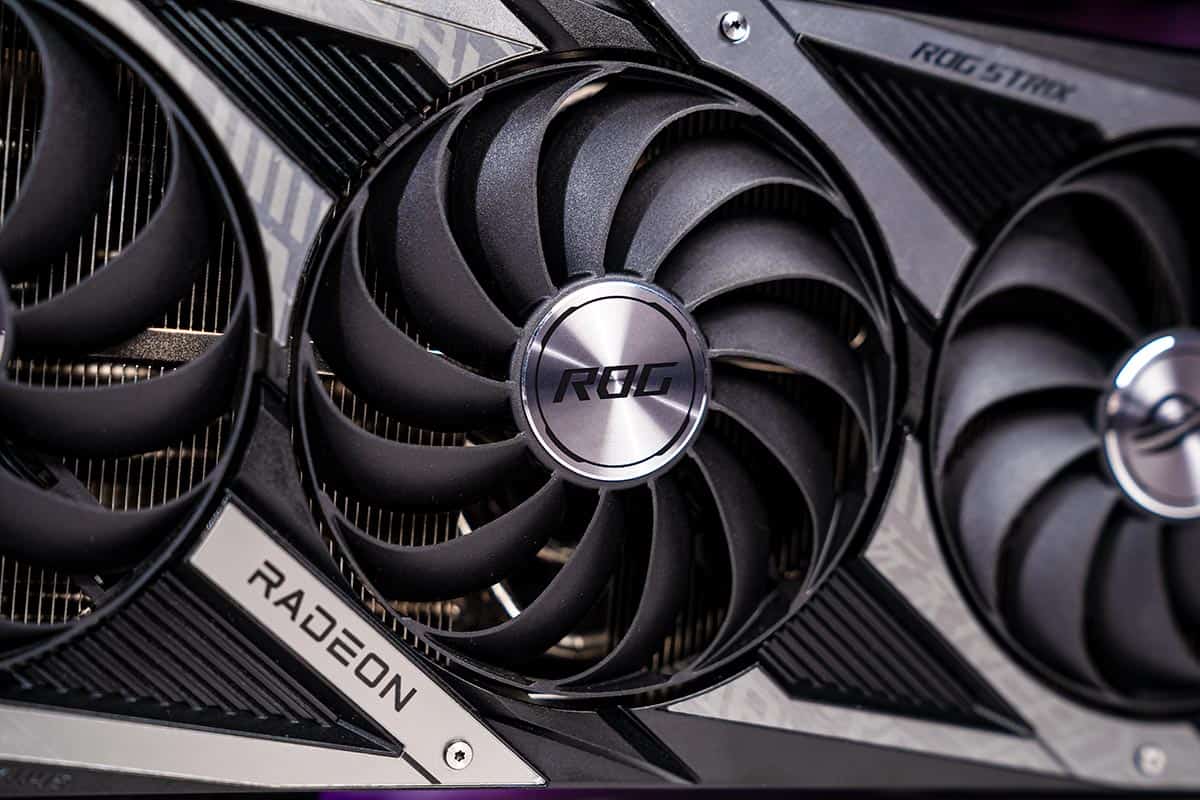 The RX 6750 XT has 12GB of GDDR6 memory, clocked at 18 Gbps. Which through the 192-bit memory bus gives a bandwidth of 432 GB/s. Whilst Nvidia opts for more throughput, with only 8GB of GDDR6 and clocked at 14 Gbps. So with a 256-bit bus, it does offer a better bandwidth of 448 GB/s. 
Frequencies
Frequency is the clock or cycle rate of the GPU. This means how quickly the silicon crystals can flip in the die. This in turn relates to how fast they can process the instructions going through them to spit out onto your display. It's also a factor capable of being overclocked by the end-user of AIB.
Again, as previously seen it's the Radeon card that has the higher rates. The RX 6750 XT has a base clock of 2,150MHz, with a boost clock of up to 2,600MHz. Whereas the RTX 3070 has a base clock of 1,500MHz with a boost of up to 1,725MHz. So the AMD card will offer faster processing but it's all for processing.
Total design/board power
The TDP/TBP is the maximum amount of energy the GPU will consume at max utilization. Showing you how much electricity it will be consuming and how hot it could potentially get. As all the usage will convert to waste heat the cooling has to deal with and ends up in your system. In our comparison, the 6750 XT runs 30W higher than the 3070.
RX 6750 XT vs RTX 3070 performance
Kit Guru has extensive testing on the RX 6750 XT and compared it to similar selection cards. Between the 6750 XT vs 3070, we see them trading blows in various games. Whilst the AMD card takes the lead in synthetics likely from the VRAM advantage. They both come close to what they offer and tend to be more aimed at 1440p resolutions.
Then if you're a fan of ray tracing then Nvidia would be the better option. With its better optimization, it does achieve better framerates across the board with the option turned on.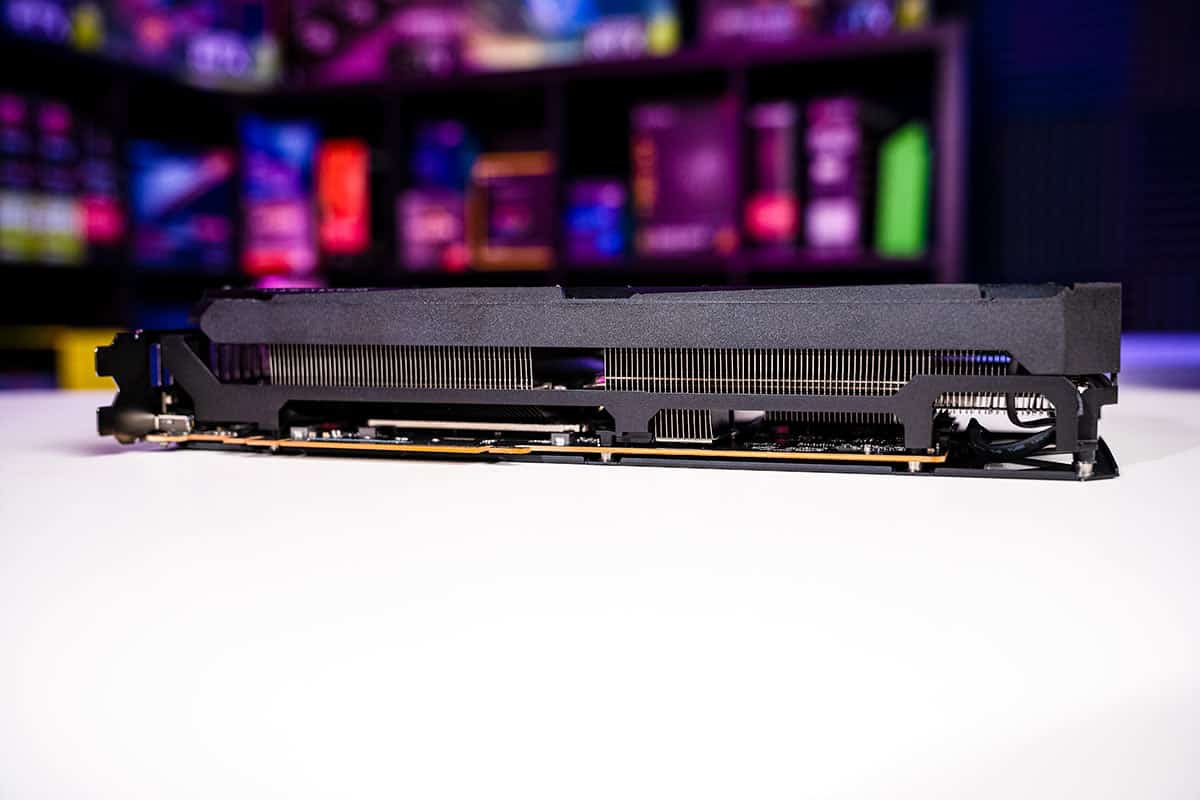 Price
When it comes to the MSRP of the two choices, the 3070 is set lower. With a price of $499 whilst the 6750 XT asks for $549. So it is a $50 higher asking pricing for the Radeon card. And the GPU market has been returning to normal with cards close to MSRP so you should be able to get them close to it.
Conclusion
Comparing the RX 6750 XT vs RTX 3070 there is a back and forth between the two. But the AMD card is more expensive out of the factory. However, you may still not be able to get the 3070 and asking price so it may not be worth it.
So if you're still unsure you may want to wait until the next drop of cards. With the expectation of Intel ARC Alchemist cards in the summer. Or the next generation of RTX 40 series and RX 7000 in the second half of the year.